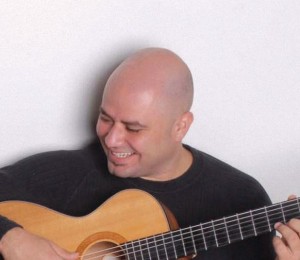 Ever since I was a little child I remember the longing I felt each time I touched my small ¾  guitar and prepared myself to take leave of this world following her first  notes. I also remember one of my first queries-all in a child's imagination. '' If I feel this way, how did the man who made this feel ? How did he manage to put together these pieces of wood so beautifully ?
A procedure so simple and complex that still remains such through-out the years. As I had the opportunity to watch the birth of the need a professional carpenter and amateur musician developed toiling to create a quality, well-crafted instrument, my questions of childhood were answered.
And how oddly childlike  was the look  in Chrlistos' eyes when he told me ''She's ready  !Come and listen to her.'' It's a striking experience to see him watching you with a smile as you play with what is very much ''his child''-and that was just the beginning.
The exemplary  love and constant evolution that Christos Vouladakis shows in crafting guitars  is good guarantee for any guitarist who wants to invest in his own really hand-made instrument.
Michalis Brouzos
Soloist, member of AnimaCorda
Guitar teacher